Evandro Gregório
From RPGWiki
Jump to navigation
Jump to search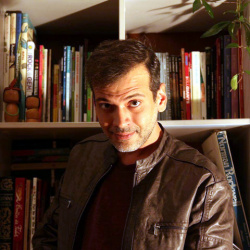 Evandro Gregório, nome profissional Greg Tocchini (São Paulo, 1979), começou sua carreira ilustrando as páginas da revista de RPG Dragão Brasil. Durante este período também ilustrou edições especiais da Trama Editora, chamadas Dragonesa e Anjos Caídos, assim como também produziu material para a graphic novel Fábrica de Quadrinhos vol. 01, publicado pela Devir Livraria. Também foi professor e coordenador da Escola de Artes Fábrica de Quadrinhos e Quanta Academia de Artes.
Nessa época ainda assinava como Evandro Gregório ou apenas Gregório, depois adotou o nome artístico de Greg Tocchini, pelo qual ficou conhecido pelos trabalhos internacionais.
Seu primeiro trabalho no mercado americano foram The First, Meridian, Route666 e a mini-série Demon Wars, para a Crossgen Comics, depois Star Wars, para Dark Horse e, finalmente, para a Marvel com Thor: Son of the Asgard, X-men, Captain America and the Falcon, Spider-Man, Dr-Spectrum e 1602: A New World (um spin-off do 1602 original de Neil Gaiman). Nessas mini-séries ele desenhou personagens como Homem-Aranha, Hulk e Homem de Ferro. Para a DC Comics ele fez ION, com o escritor Ron Marz, Batman e Robin, Search For Ray Palmer: Gotham By Gaslight – retornando a Marvel para fazer Odyssey e Wolverine: Father.
É também o artista das mini-séries The Last Days of American Crime escrito por Rick Remender, para a Radical Comics.
Ver também