Difference between revisions of "Rebelião - Céu e Inferno"
From RPGWiki
Jump to navigation
Jump to search
 

 

Line 33:
Line 33:





[[category:Livros]]

[[category:Livros]]
---
Latest revision as of 04:14, 14 August 2015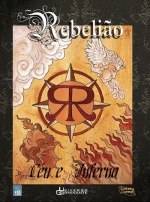 "Descendo o Monte Orebe,
galgando as planícies de Sotonah,
cantando hinos e hosanas ao criador.
Blasfemando heresias de uma beleza bárbara;
com espadas coruscantes e estandartes de ouro.
Portando armas selvagens de flagelo e dor,
Trazem no compasso de sua marcha
a vontade de nos esmagar os ossos,
E nos olhos a promessa de nossa morte.
Não importa se do mais reluzente dia,
ou da mais densa noite,
Têm todos, para nós, um só nome:
Inimigo!
Céu e Inferno é o suplemento de rebelião que trata das duas principais facções de Nefilins, os anjos caídos da Segunda Rebelião.
Compre!